25Jan

Acosta Europe and C-Store Collective create category partnership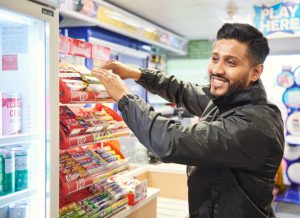 C-Store Collective, the panel of associate consultants supported by convenience industry experts, is announcing the leading field execution and category advice provider, Acosta Europe, as its eighteenth partner.
Acosta Europe is the parent company of Reach, ShopSmart Agency, Disrupt and Flexforce, and is the leading field execution and category advice provider in the UK and Ireland. The successful top-ranking business proudly holds long-term partnerships with leading brand owners including Nestlé, Heineken, Premier Foods and British American Tobacco.
Acosta Europe's partnership with C-Store Collective will focus on bringing improved category expertise to the convenience channel by partnering with new and existing manufacturer and retailer clients. Their aim will be to optimise the impulse, packaged grocery, household, health and beauty categories within a convenience store to match specific customer needs.
The partnership will harness Acosta Europe's market-leading EPOS syndicate, digital marketing and field coverage expertise with C-Store Collective's convenience experience. It will also ensure brand owners and retailers will see the right range delivered in the right stores.
Intuitive independent retailers will benefit from the collaboration by discovering how effective the partnerships' promotional insights, shopper marketing and range availability is delivered in the heart of the store.
Anthony Carr, Managing Director of Acosta Europe, comments: "2020 was the hardest as well as the most impressive year for convenience on record as the sector maximised range availability. At the same time the industry dealt with unprecedented new challenges around operations, staffing and unpredictable sales patterns."
"We have supported the convenience channel for 46 years, and our collaboration with C-Store Collective is an opportunity to realise our unwavering ambition to make ambient categories work as hard as they can in every single store for retailers, manufacturers and shoppers."
Jonathon Rons, Co-Founder of C-Store Collective, said: "We are delighted to partner with Acosta Europe. Ensuring the right product, the right location and its availability sounds cliché but it is now more important than ever to get this right as shoppers use convenience stores to fulfil a bigger top-up mission."
"We will start working with Acosta Europe and one of our retail clients straightway to show how their capabilities will bring a measurable sales uplift to the heart of the store."
C-Store Collective is keen to hear from all manufacturers and convenience retailers who have a passion for maximising sales. "We are committed to being category-first in our approach, with an emphasis on doing what is right for every single store. This will ensure everyone benefits from the improved performance" Rons added.
To understand more visit C-Store Collective at www.c-storecollective.com