23OCT

Hot Trends from Anuga 2019

It's just about the most important show in the world of food and drink, so Anuga was firmly in our calendars this year. The Cologne-based trade show is the largest in the industry, offering a slice of insight into global FMCG trends and to whet your appetite. We've rounded up our takeaways into a digestible hors d'oeuvres, if you will.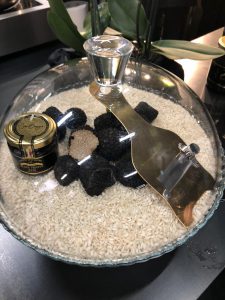 Accessible ingredients
To most households, truffle represents the pinnacle of aspirational ingredients, restricted exclusively to gourmet cuisine due to high price and low availability. However, recently we have seen the emergence of this delightful and delicious product in formats such as seasonings and oils to allow the average home cook to add the uplifting element of truffle to dishes without breaking the bank.
During Anuga, we spotted black truffle seasoning, truffle pesto, truffle and sun-dried tomato as well as truffle and pecorino in easily dispensed shakers to add to any dish to give it that beautiful taste and uplift a dish the way only truffle can do. It may not be the real thing, but innovative formats at accessible price points marks a shift in what consumers expect from products, and opens up avenues for ingredients previously accepted as unattainable by most.
Proliferation
A lot of products have been done to death. We still see a variety of snacks, beverages and confectionery that are not offering a USP to the market in relation to established competitors. Although this may be an assumption, it is important for USPs to be communicated clearly and at a glance, especially for new brands.
How do these brands cut through the clutter and stand out at trade shows and on the supermarket shelf? Being a new brand is difficult, and despite being the next big thing, getting those messages to stand out clearly to buyers and consumers crucial if you want to avoid the perception of being just another product jumping on the bandwagon of trends.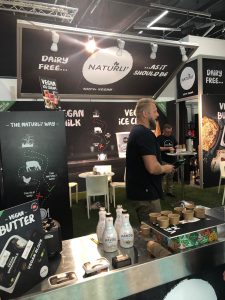 Plant-based & Free From
There are some fabulous new brands entering the market in this area, speaking to consumers with great packaging and bold claims. We are however, starting to be flooded by them, making it difficult for brands to cut through the noise. In order to compete, products must deliver, not just aesthetically but across the board to win the race in becoming the new big brand in its category.
Although great taste is imperative, consumers can now be choosy as their needs and preferences are catered for more than ever before. We also know that packaging and how a product is introduced to market is just as important. Are you ethical? Are you environmentally friendly? What is your carbon footprint? Are you 100% recyclable? To get a foothold, it's not just about funky packaging and modern comms, a lot of questions must be answered for today's discerning consumer.
Eating with our senses
A real highlight of this year's show was seeing the delightful and tempting displays of food to delight every sense whilst perusing the stands. Fantastic bakeries, patisseries and delis draw you in, not just visually but with the smells of baking bread and warm chocolate, tempting even the hardiest figure-watcher.
Whilst many of us are turning our backs on sugar and carbs, there remains a need to treat ourselves and visiting Anuga certainly has done that. The shops, bakeries and cafes were heaving with consumers sampling the delights of "kafe und kuchen", picking up fresh bread and brioche, or munching the end of the baguette as they take it home. There is a lot to be said for our eating habits being linked to our mood and emotions, and as the nights draw in, treats and comfort eating become more appealing.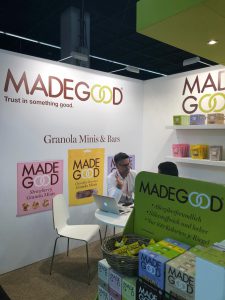 Allergens
A lot of brands are making series efforts to meet allergen guidelines and some of these have been pretty impressive. As well as classic free from products leaning towards dairy free or gluten free we are now seeing products emerging which aim to be free from the full 14 most common allergens in their ranges or offerings. Not only do these products deliver on their allergen-free claims, but taste fantastic too. Definitely one to watch.
CBD
CBD is a trend that has been making a lot of noise as it's hit our marketplace, although many retailers remain wary whilst it is waiting for full regulation. Across the pond in the US, CBD has become well established, whereas here in the UK we are only just starting to see it on shelfs in retailers such as Holland & Barratt.
Although social media and press are full of stories from consumers reporting benefits that products such as CBD oils, capsules and even pet food give, concrete medical evidence to back it up still hangs in the balance. Despite it remaining relatively niche for this year, we foresee this being bigger at next year's show. The question is, which of the big five multiples will be the first to take a hit into this area? CBD is certainly an interesting trend but more education and communication is needed to inform both consumers and convenience retailers properly.
If you'd like to know more about what we do and how we can help your brand grow, follow us on LinkedIn.