12JUN

Acosta Pride: Justin's view

As part of Pride Month, we are celebrating diversity and equality in our business through a mini-series of stories from our team. The first comes from Justin Rigden, Group Operations Director.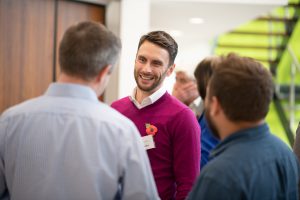 "I've been working in the Field Marketing industry for a little over twenty years. I can honestly say that during my career I have never felt in any way disadvantaged, nor have I been treated any differently to any of my colleagues.
I guess that may be down, in part, to my personality, coupled with a determination to fulfil my career goals. I also consider myself fortunate that I have worked with some of the most professional and inspiring people, many of whom I am honoured to now call my friends.
At Acosta Europe we genuinely live by our values and embed a culture of trust and openness every day. I am truly proud to work for such a diverse and inclusive organisation. Despite my own positive experience, I am in no doubt that this couldn't be further from reality for many people in other industries and organisations.
Pride month this year commemorates the Stonewall Riots, which took place 50 years ago in June 1969. Poignantly for me, this event took place some 10 years before I was born and most certainly changed the future of the LGBT+ community, including my own.
Although I have never felt the need (maybe until now!) to broadcast my sexual orientation to anyone, not least my colleagues, equally I have never had to hide my identity from anyone. For this I am grateful – grateful to those who demonstrated on that morning and everyone who has stood up for equality.
It is as important to promote equality now, as it ever has been. Only this week we heard news of more homophobic attacks on two women. However, this month opens an opportunity for people like myself to reach out to the wider community with hope and positivity, and is a chance to celebrate diversity."